Chocolate Chip Cookie Hearts
By Allergy Free Me..., Fri, February 14, 2014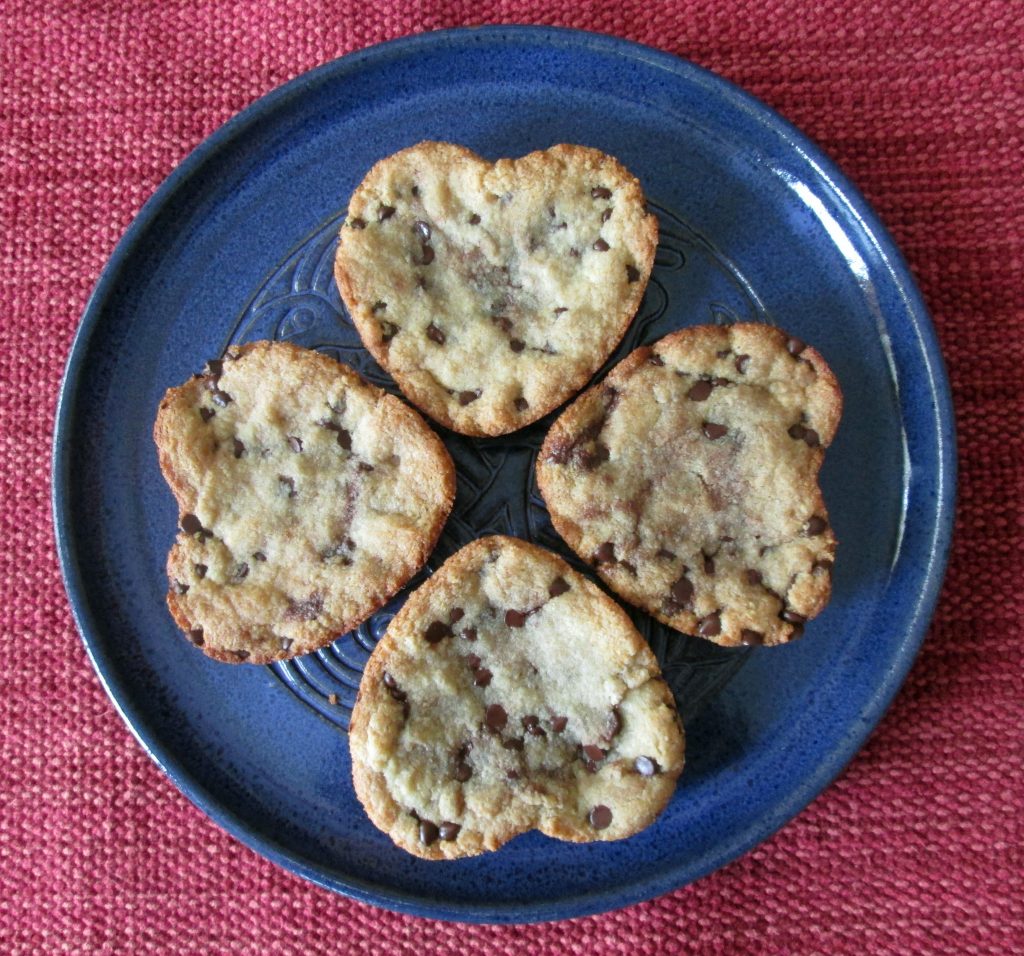 Cookie Hearts
Happy Valentine's Day!  When I was a kid, my mom made Valentine's heart cakes with a heart cake mold and then brought them to school for Valentine's Day.  These were the days before we knew about my food allergies.  The cakes were super moist, yummy and frosted with pink frosting with a red heart in the middle.  Yum!
Well, my mom saved those molds over all these years and I use them now and then to make heart shaped cakes and cookies.  One time we used them for making heart shaped crayons (that mold is now used just for crayons!).  This time I used my adaptation from Elana's chocolate chip cookie recipe and made them into hearts.
Here is the recipe:
Chocolate Chip Hearts:  (grain, dairy, soy-free)
2 ½ cups almond flour (you could also use hazelnut flour)
½ teaspoon sea salt
½ teaspoon baking soda
½ cup coconut oil, melted
1 tablespoon vanilla extract (half the time I don't use this because I am out!)
1/3 – ½ cup honey, to taste
1 egg
1 cup mini dairy-free chocolate chips
Steps:

1.  Preheat oven to 350 F.  Combine the almond flour, salt and baking soda together in a bowl.
2.  Melt the coconut oil over low heat in a small bowl or pan and add the honey and vanilla.  Remove from heat and add this mixture to the flour mixture.
3.  Add the egg to the batter and mix well.  As long as batter is cool, add the chocolate chips.  If it is still warm from melting the coconut oil, refrigerate or allow the batter to cool before adding them.  Add the chips and stir well.
4.  Grease a cookie sheet or use parchment paper.  Or, grease your heart molds.  For this batch, I made 12 regular cookies plus 4 cookie hearts.  For regular cookies, use about 1 1/2 – 2 Tbsp. of dough per cookie.  Press the cookie into cookie shapes as they will not spread or change shape.
5.  Bake at 350° for 10-12 minutes or until golden brown  Cool and serve.  Store in a container in the fridge or on the counter with the lid ajar (they will become very soft otherwise).
Egg-free option:
I use gelatin a lot for egg-free baking and you could try doing this if you are egg-free.  I have made these cookies without an egg like Elana's recipe calls for and the cookies spread when I don't use an egg.  It may be because I use honey and coconut oil verses agave and grapeseed oil.  This is my basic recipe for replacing 2 eggs:
1 Tbsp. Great Lakes gelatin mixed with 2 Tbsp. cold water + 2 Tbsp. boiling water
I have not yet tried this recipe with gelatin, but I would start with doing a half recipe of the gelatin mixture and see if you get a good cookie batter consistency.
Heart Molds!
If you're looking for a heart shaped cake mold, here is one similar to the size I use on Amazon.
Happy Love Day!